The GE Signa HDe 1.5T MRI Scanner applications and reconstruction capabilities provide excellent speed, resolution, and contrast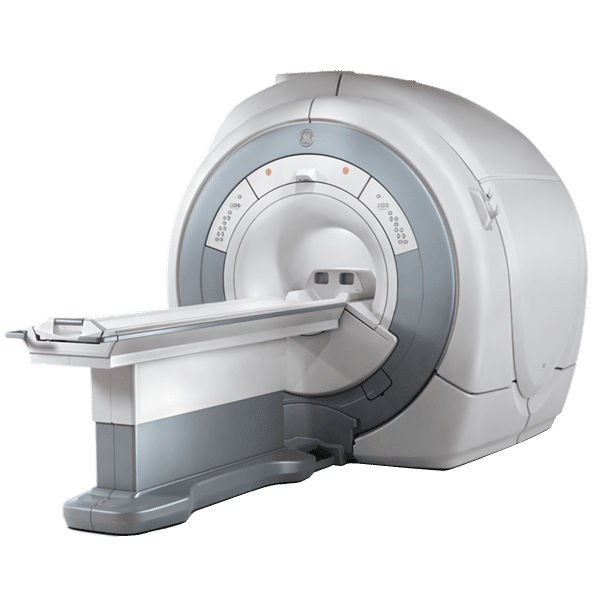 GE Signa HDe Overview
The GE HDe gradients allow each axis to simultaneously attain a peak gradient amplitude of 23 mT/m and slew-rate of 50 mT/m/ms coupled with GE's exclusive digital gradient-control topology to produce the most accurate and repeatable waveforms.
The HDe 8-channel receive chain is designed to accommodate variety of high-density phased-array coils for focusing on the anatomy of interest.
Benefits
30% smaller footprint than compatible 1.5T MR imaging systems.
Compact Low-Cryo-Consuming (LCC) Magnet w K4 Technology.
Single-cabinet configuration.
Secure Coil Connect eliminating coil connection errors, ProtoCopy, that facilitates the development and rapid transfer of scan protocols, and Vector Gating.
Patient Transport: includes a detachable table that can be easily docked and undocked by a single operator.
Features
The GE 1.5T HDe ScanTools Package delivers a full range of pulse sequences and analysis software for whole-body imaging. The core HDe ScanTools package includes spin echo, fast spin echo, gradient echo, fast gradient echo, time-of-flight, phase contrast, echo planar pulse sequences along with FuncTool, ClariView, Multi-planar Volume Reformat and Interactive Vascular Imaging analysis.
Operator Console and User Interface: Linux computer, 23-inch LCD monitor and scan control keyboard. Flat panel display monitor provides high, 1910×1200 dot resolution with a 500:1 contrast ratio.
Single-blade Volume Reconstruction Engine (VRE).
23mT/SR50 Gradient Driver.
8-Channel Digital RF system.
More Options
Related mRI Machines