The Siemens Symphony Sprint 1.5T MRI scanner applications range from traditional to high-end such as cardio imaging, 3D ultra-fast body imaging, spectroscopy and more.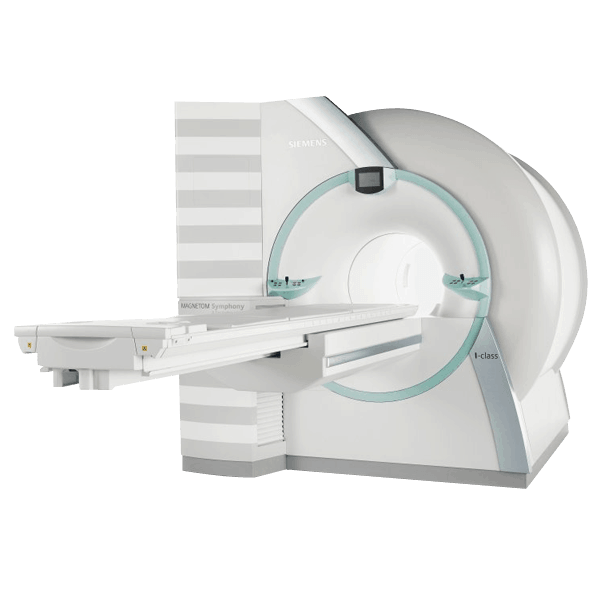 Siemens Symphony Sprint Overview
The refurbished Siemens MAGNETOM Symphony 1.5T MRI system is a compact whole body MR imaging machine. The used Siemens MAGNETOM Symphony 1.5T MRI features an ultra-short, 60cm bore.
Each refurbished Siemens MAGNETOM Symphony 1.5T MRI machine features a set of matrix coils that can flexibly combine up to 76 coil elements for unlimited parallel imaging. And the Siemens MAGNETOM Symphony 1.5T MRI features syngo SPACE, which replaces time-consuming multiple 2D acquisitions with a single 3D image, allowing you to visualize very small details.
Benefits
Image quality is unparalleled for localized studies of very small structures, all the way through to whole-body exams.
PAT factors up to 12 accelerate image acquisition for faster-than-ever examination times.
Total examination time is shorter and throughput is maximized because you do not need to reposition the patient or change coils when you change studies.
Features
Product Description.
3D High-resolution breast imaging.
Top image quality.
Panoramic table.
Compact short bore magnet.
Allows for cost effective siting.
Clinical Applications
CORE Package
Syngo
iPATplus
Advanced Turbo
Advanced Angio Package
CARE Bolus
---
CAN'T FIND WHAT YOU ARE LOOKING FOR?
Give us a call!
Our equipment specialists are ready to help you.