The Siemens Magnetom C 0.35T Open MRI Scanner features a seamless workflow and low operating costs which promote a high return-on-investment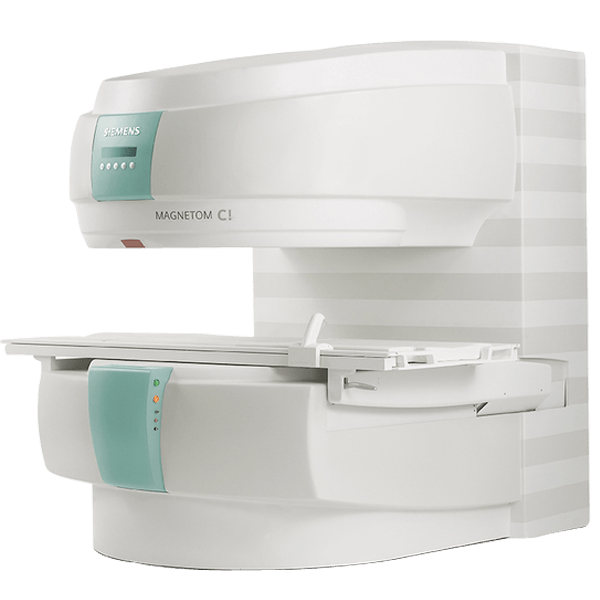 Siemens Magnetom C Overview
The surprisingly powerful Siemens MAGNETOM C 0.35T MRI machine features true multi channel-imaging with 4 element coils and 4 channels for faster head-to-toe scanning in a unique open design. The Siemens MAGNETOM C 0.35T MRI provides patient-friendly side-loading for optimum comfort, the latest application technology for seamless workflow and optimized component integration for high productivity.
Siemens MRI scanners are equipped with Tim® Technology, which has become an MRI standard. Siemens MRI systems provide a level of flexibility, accuracy and speed that meets both the demands of today's clinics.
Benefits
Exceptional image quality with Multi-Channel Array coils Easy patient positioning and very convenient coil handling with true Multi-Channel Array coils significantly increase SNR, ease of use and workflow and enables parallel imaging with syngo® GRAPPA for faster scans. MAGNETOM C's multiple coils for extended field of view can be placed simultaneously to avoid patient repositioning and facilitate image composition.
Cost efficient quality care Comprehensive workflow from start to finish. With MAGNETOM C every step is optimized to streamline your examinations: beginning with quick and easy patient positioning and posterior coil parts that remain on the table. High-field protocols and applications, tailor-made to mid-field, allow for a high workflow and excellent applications. A wide choice of applications opens opportunities for more referrals.
Outstanding patient comfort with the most open, compact C-shaped magnet More space means less anxiety. A unique C-shaped magnet for easy side loading and a friendly, compact design cooperate to create an open and free atmosphere.
Features
Field strength 0.35 Tesla.
Bore size 270° accessibility.
Pole diameter 137 cm
Minimum room size 30 m2.
RF 4 independent receive channels.
Gradient strength (24 mT/m @ 55 T/m/s).
More Options
Related MRI Machines