The Hologic Discovery SL bone density machine combines the proven clinical value of bone mineral density (BMD) measurement and vertebral assessment with Express BMD.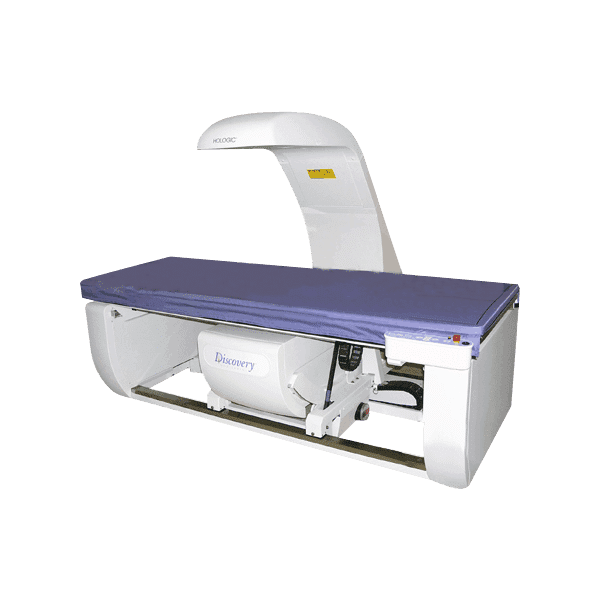 Hologic Discovery SL Overview
The Hologic Discovery SL combines the proven clinical value of bone mineral density (BMD) measurement and vertebral assessment with Express BMD, the most rapid means of acquiring accurate BMD results. Express BMD and Instant Vertebral Assessment (IVA), both powered by our exclusive OnePass fan-beam technology, represent two of the many features that improve the accuracy, speed and convenience of assessing osteoporosis.
Benefits
Express BMD 10 Second Spine and Hip acquisition
Express Exam Productivity Tools
Better than 1.0 % in vivo precision
L1-L4 Standard Spine Analysis
Five Region Proximal Femur Analysis (Total Femur, Femoral Neck,
Inter-Trochanteric,Trochanteric, Wards Triangle)
AcuView automated Dual Femur
Instant Vertebral Assessment High Definition (IVA HD) with Image Pro
15 second single energy acquisition with decubitus or supine patient positioning
1.8 Line Pair per mm Resolution
Visual, Quantitative and Semi-quantitative analysis of vertebral bodies:
MXApro, computer-aided fracture assessment tool
Quantitative Morphometry with 6 point vertebral height measurements
Forearm analysis with automated analysis of Ultra Distal, 33% Shaft, Mid-Shaft and Total ROI for Ulna, Radius and Global measurements
Tech Tips Onscreen help graphically displays proper patient positioning
Automatic Low BMD Spine and Hip Analysis
Scoliotic Spine Analysis
Pediatric Spine, Hip, and Whole Body (W and A models only) Analysis
Infant Spine analysis down to age zero
ISCD Compliant Standardized BMD Reporting
Single/Dual Energy Image Display
Context Sensitive Help Software
Serial Scan Comparison
Software and Hardware upgrades available to protect from obsolescence
Features
Size: 142 x 105 x 202 (scanner table)
Weight: 803 pounds
Calibration: Internal Reference System for Pixel by Pixel Data Calibration (No daily calibration required)
Detector Technology: 128 CdWO4 Element Solid state Detectors
Optional :Prosthetic Hip Analysis to exclude metal implants from the hip • Hip Structural Analysis • General Region of Interest to set up to seven user definable analysis regions • Small Animal
Power Supply Voltage: Energy switching technique using 140/100kV Peak Energies
Scan Area: Paired AP/Supine Lateral Spine BMD measurements with baseline compensation for improved precision • Paired AP/ Lateral with Estimated Volumetric Results (g/cm3) • AP and Supine Lateral Instant Vertebral Assessment HD with Image Pro
Scanner table: Controls on scan table for User Convenience, Motorized Table and Rotating C-arm (A/SL models only)
Scanning Method: 96cm x 65cm scan window
Table Dimensions: Compact Design fits in 2.3m x 3.0 room (2.6m x 3.3m with total body)
X-ray characteristics: Oil Cooled High Capacity X-ray Tube
---
CAN'T FIND WHAT YOU ARE LOOKING FOR?
Give us a call!
Our equipment specialists are ready to help you.