The GE Brivo MR355 1.5T MRI Scanner technology is now more accessible, user-friendly and energy-efficient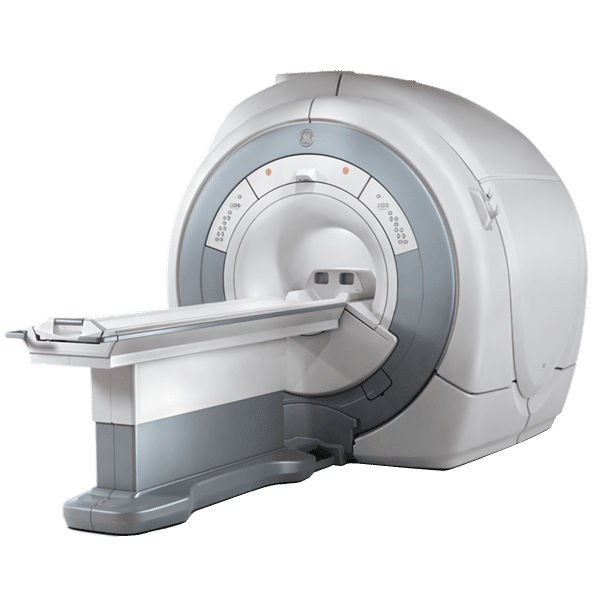 GE Brivo MR355 Overview
The Brivo MR355 reflects our efforts to make advanced diagnostic technology more accessible. But affordability does not mean you compromise on scanning range and high-field quality. The MR355 is engineered to deliver clean, crisp imaging that can help you make definitive diagnoses for your patients. At the same time, it:
Offers you simple, user-friendly operations, that may help your practice accomplish more in the same amount of time.
Helps you minimize your operating costs through efficient workflow, energy savings and reliability.
Allows you to economically upgrade when technological advancements occur, via our Continuum* program—reach your MR goals while managing MR costs.
Benefits
Built on the high-definition platform you know and trust, GE Brivo MR355 1.5T allows you to see more, do more and expect more than ever before.
A broad field of view produced by a 48-cm magnet, which can help boost throughput by allowing single-acquisition spine, body and vascular exams.
High-definition imaging capability.
Simplified workflow and streamlined scanning time.
Increased signal clarity and maximized signal intensity for clean, crisp images.
A 20% smaller footprint than other 1.5T systems—occupies only 25 square meters of space.
Consumes 34 percent less power than previous-generation systems—can save 60,000 kWh per year compared to some 1.5T systems.
Features
The GE Brivo MR355 1.5T brings you advanced technology like:
Optix RF for better signal clarity and signal intensity—to acquire cleaner, crisper images.
Express Coil, which preserves signal-to-noise (SNR) ratio and reduces handling of bulky coils between exams.
Ready Brain software that automatically determines slice alignment for brain scans—provides more consistency and precision.
Ready Bar control, which reduces 30 inputs to just one control—simplifies scan optimization for new technologists, while experienced users maintain full control of all parameters.
Ready Interface for simplified control of scan parameters—and greater consistency from technologist to technologist.
Intuitive shortcuts that enable you to easily access your most common protocols. 8-channel RF and 33/100 gradient performance.
More Options
Related mRI Machines